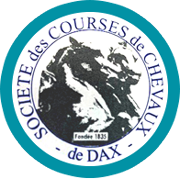 A SHORT HISTORY OF THE DAX RACECOURSE COMPANY
A place, men, horses…
The Dax Racecourse Company was founded in 1835 and presided by M. J. Demoulin.
The racecourse was initially situated on the site of the present day aerodrome. In 1860, Alphonse Campet, the new Racecourse Company President, bought for the sum of 10,000 gold francs on behalf of the town of Dax, 106 acres in the municipality of Saint Paul Lés Dax known as the « Jardin des Plantes ».
At that time there were two or three race meetings a year, one of which included the Grand Prix de la Ville de Dax on the town's annual feast day.
At the end of the of the XIXth century and the beginning of the XXth century, Olivier Tirlot set up in training at Dax with some 150 horses and was the leading trainer in France in 1930, 1931 and 1932.
The two most important trainers on the site were Olivier Tirlot for R de Monbel and Michel Laborde for Mme. the Marquise de Moratella.
Guy Duforet served his apprenticeship with O.Tirlot and went on to become French champion jockey in 1932, 1937 and 1941.
In 1985 the Racecourse Company of Dax merged with that of Biarritz and  since that date has organised 12 annual racedays (5 with local betting and 7 with national betting).
At the present time the Racecourse Company is presided by M. Jean Louis Gayan Sourgen and that since 1989.
The best horses trained at the racecourse include : Ermak winner of the French Derby in 1891, Bonbon Rose, Fragilité, Ketch, Sollicitor and Malhado Island.
The racecourse has:
Three turf courses :

A right-handed course for flat racing, a mile and two furlongs round, 20 yards wide, with a 2 furlong finishing straight.
A right-handed steeple chase course, a mile and one and a half furlongs round.
A right-handed hurdle course, a mile and one furlong round.

2 exercise sand tracks, one a mile round, the other six furlongs round.